36V EasiStore 380R (Product Only)
Battery-powered cordless lawn mower with extra features to make mowing easy. Batteries and chargers not included.
Key Features:
- Keep your shed or garage tidy with a vertical storage position
- LED display clearly indicates remaining battery capacity
- A roller provides a beautiful stripe effect to your lawn
We're making improvements!
Please sign up for an alert when the webshop has re-opened, or find another way to purchase with Flymo.
---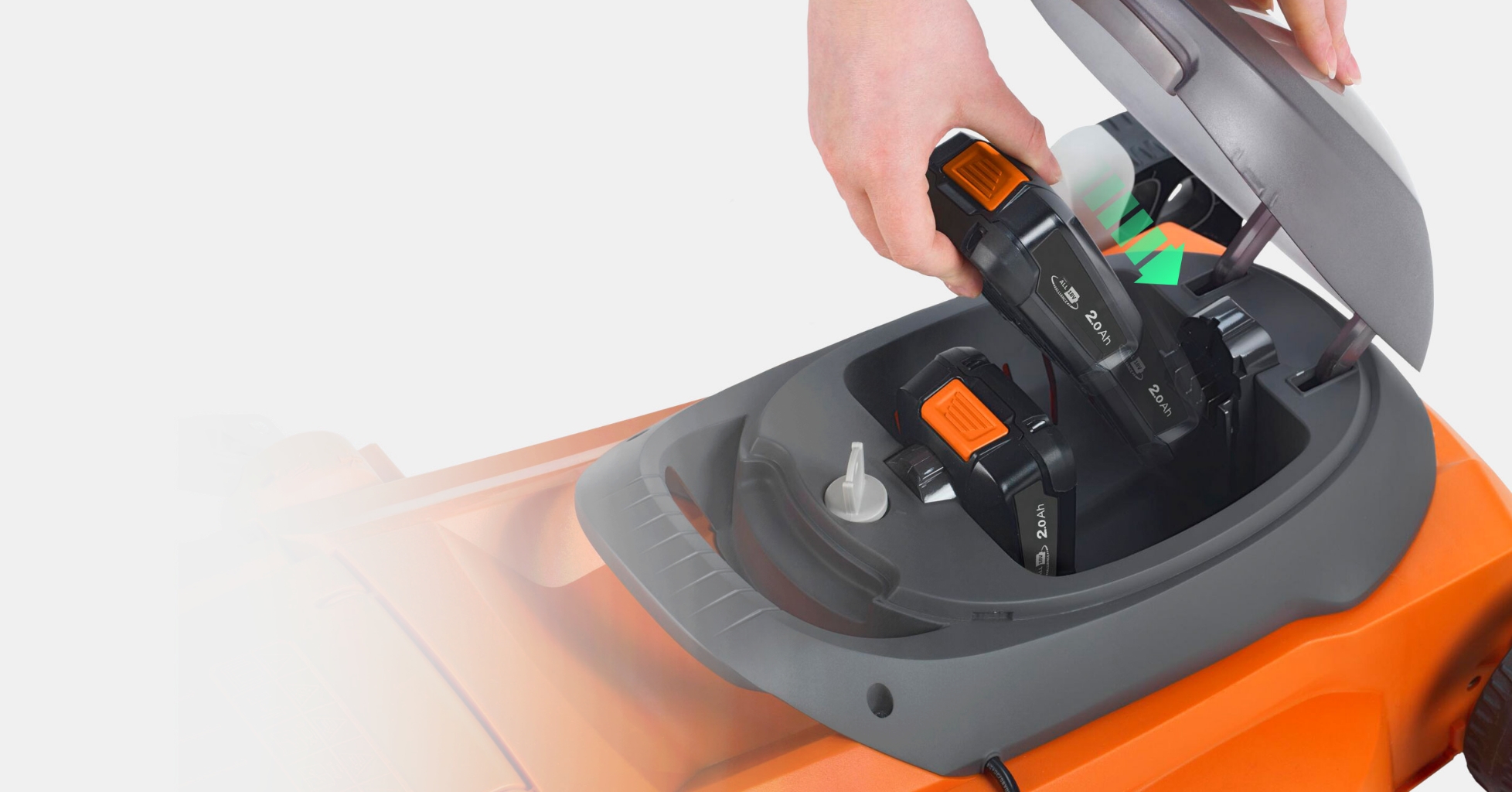 Cordless Power
Reach the furthest edges of your lawn with no restrictive power cord. Simply charge the included batteries and go, with no need to worry about cables.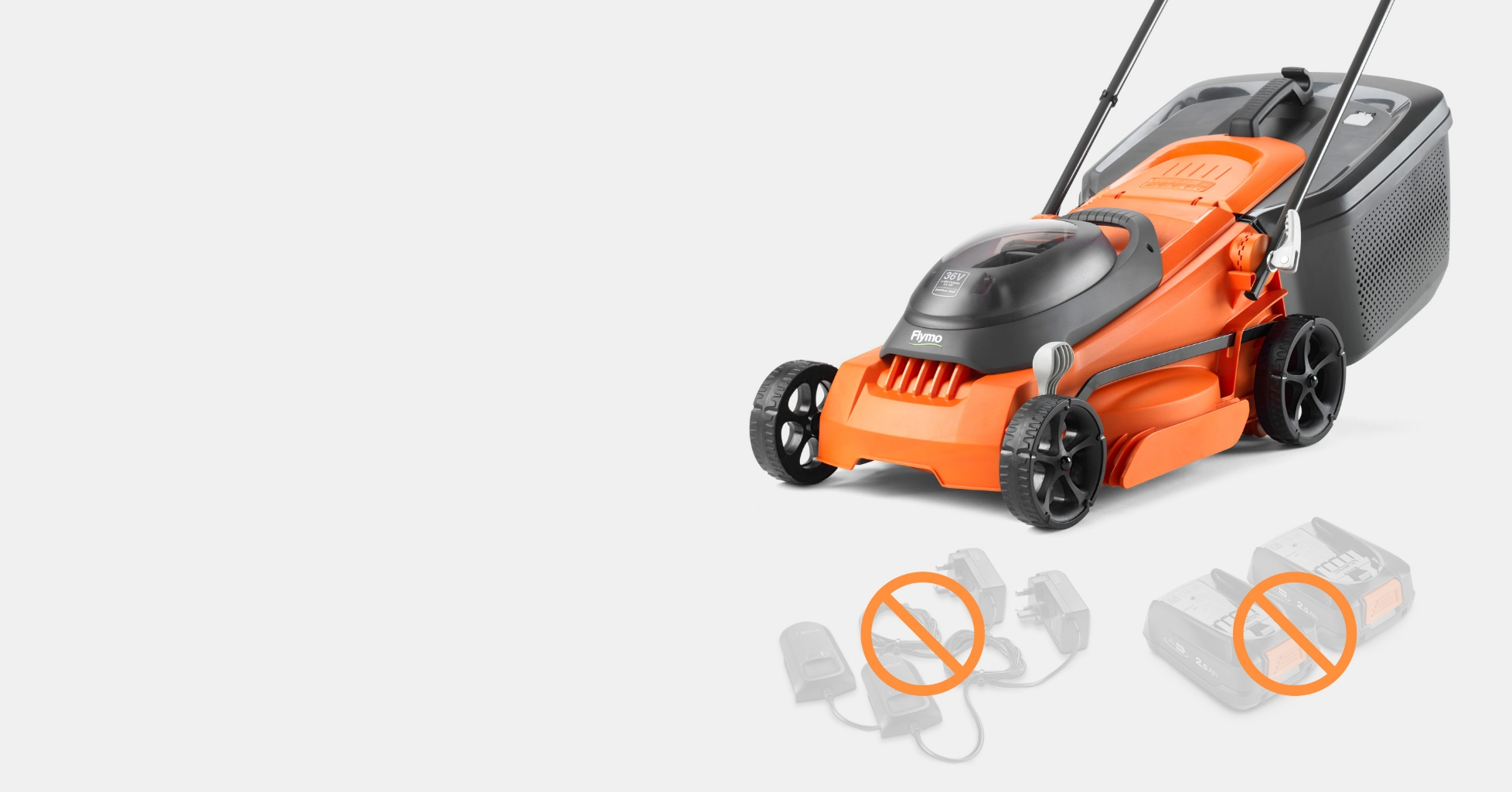 Kit Not Included
If you already own compatible POWER FOR ALL batteries and chargers, this is the perfect solution for you.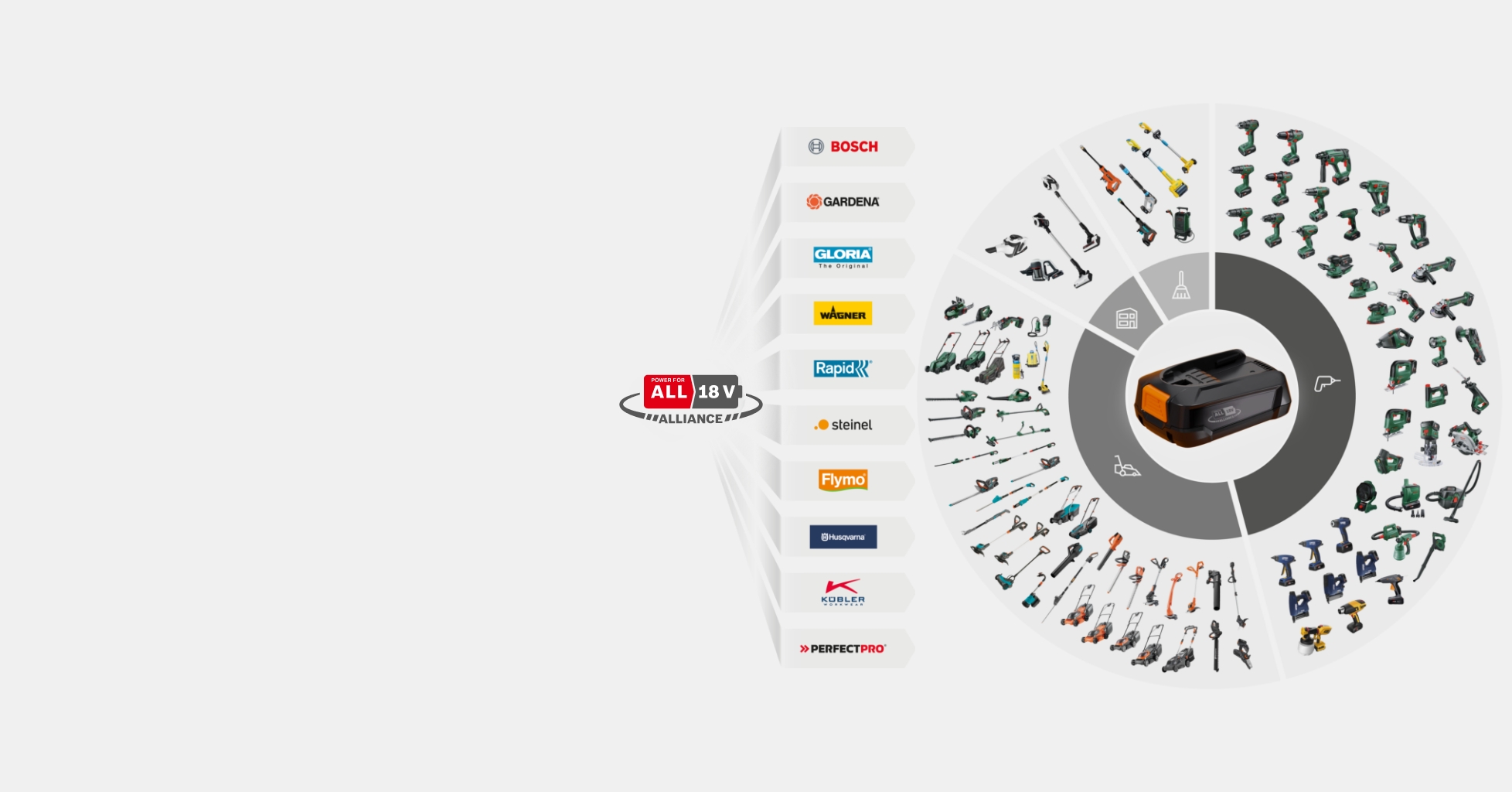 POWER FOR ALL ALLIANCE
Join one of the largest multi-brand 18V battery systems. One battery is compatible with over 100+ tools for jobs around the home and garden.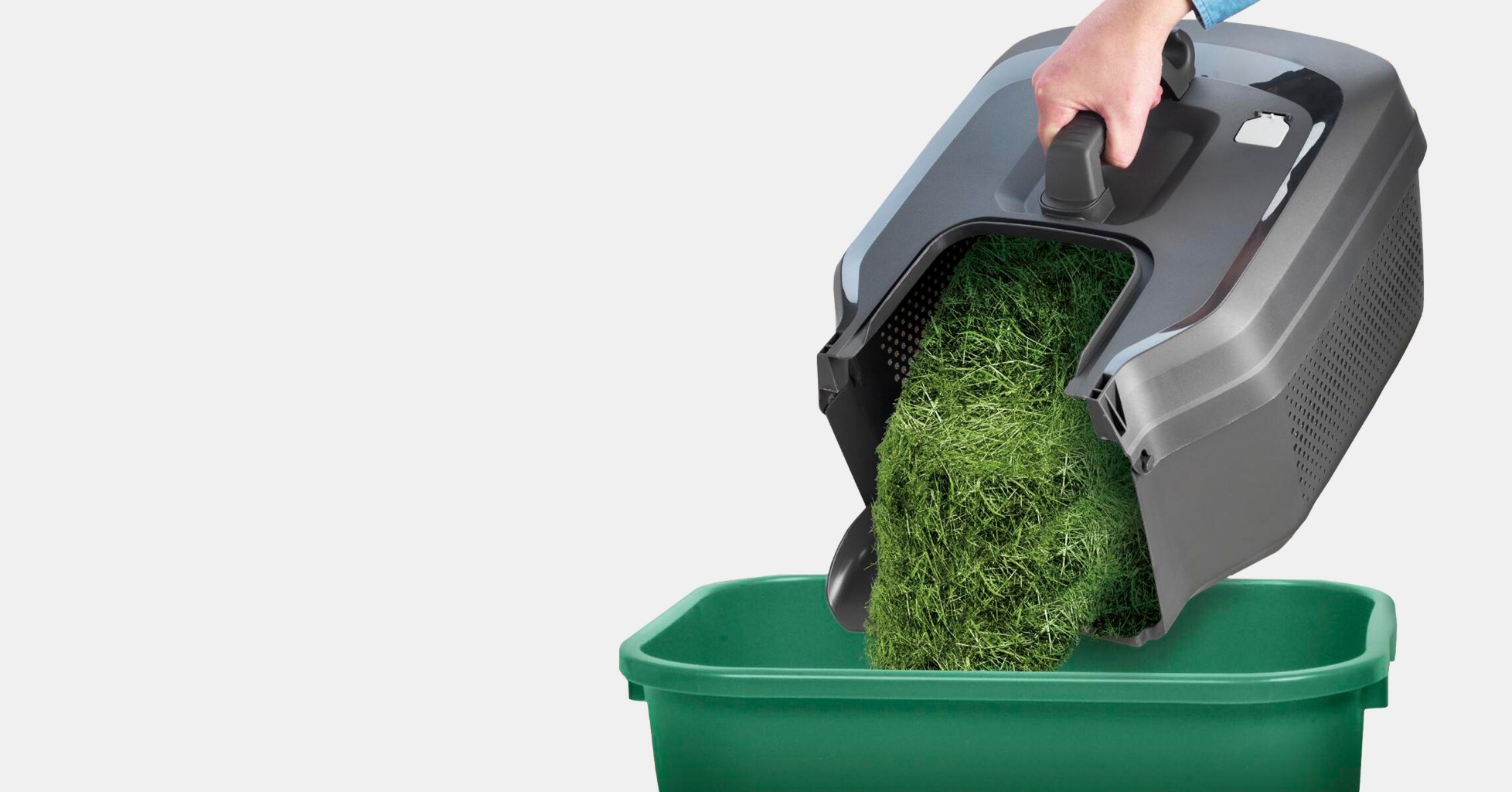 Grass Box Capacity
A high-capacity 45L grass box collects more clippings meaning you can go longer between empties.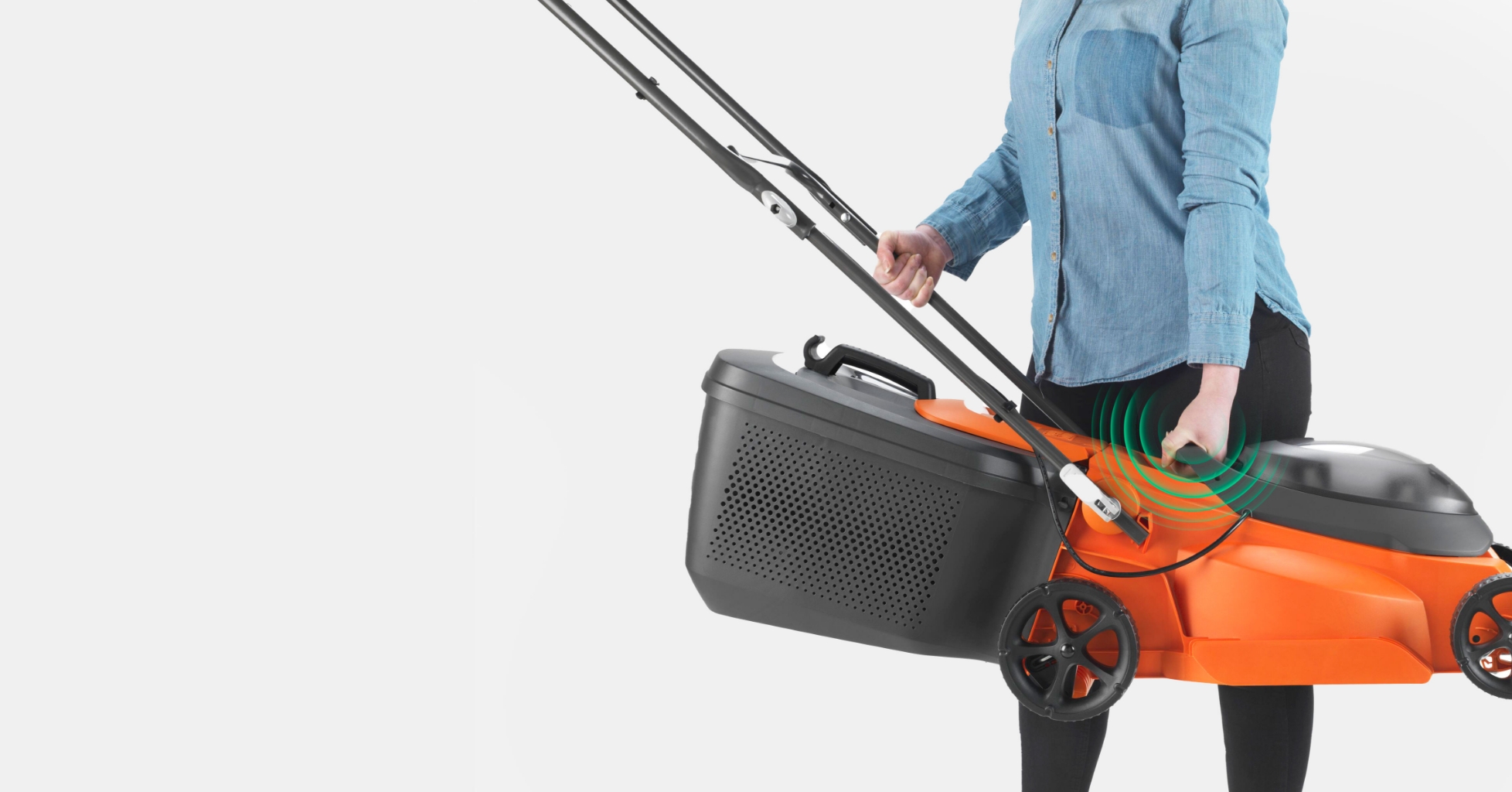 Carry Handle
Lifting and carrying your EasiStore is effortless thanks to the integrated handle.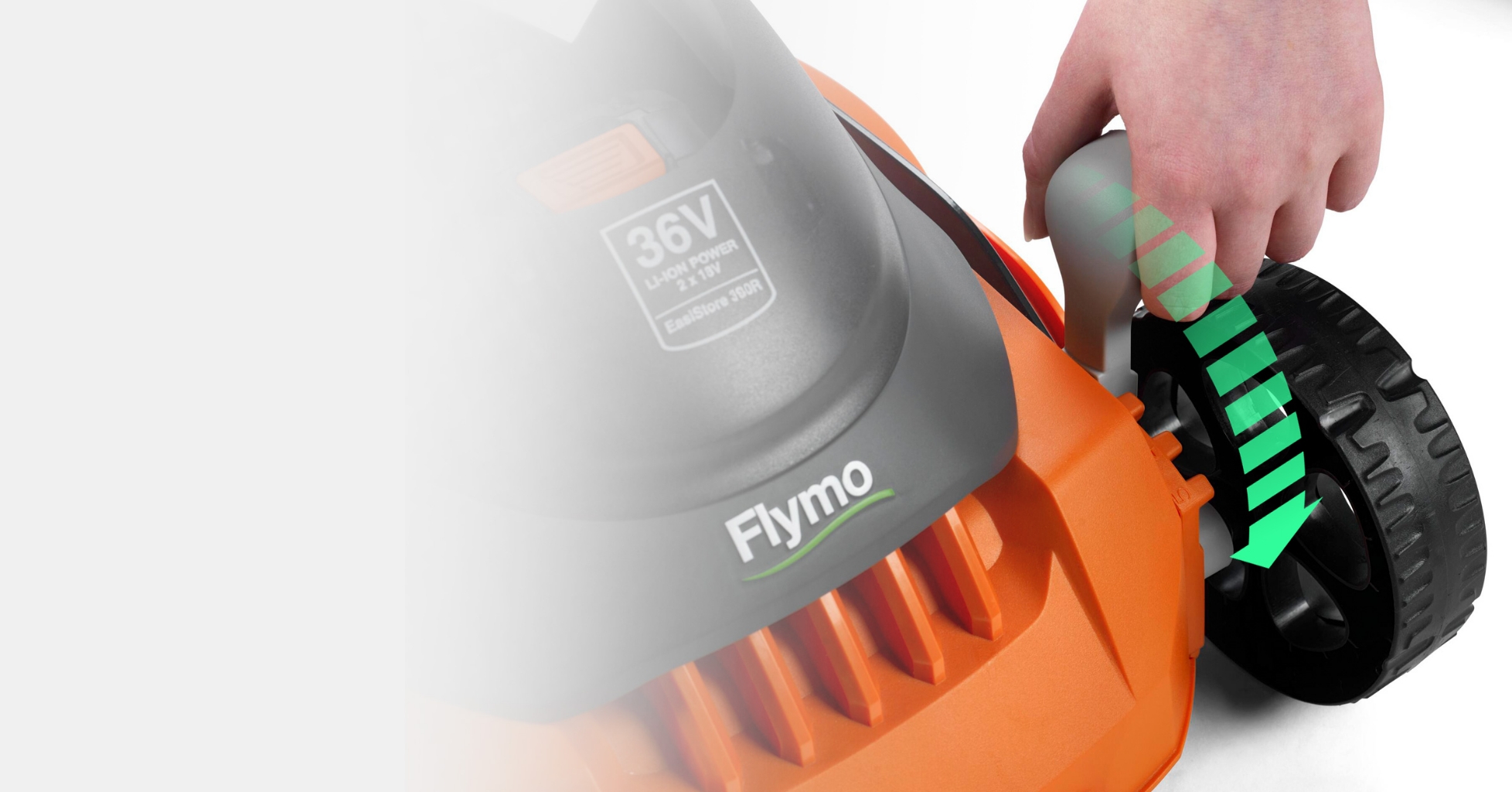 Cutting Height Adjustment
Whether you prefer the uniformity of a close-cut lawn or prefer a higher cut, The single lever makes picking your desired lawn height easy.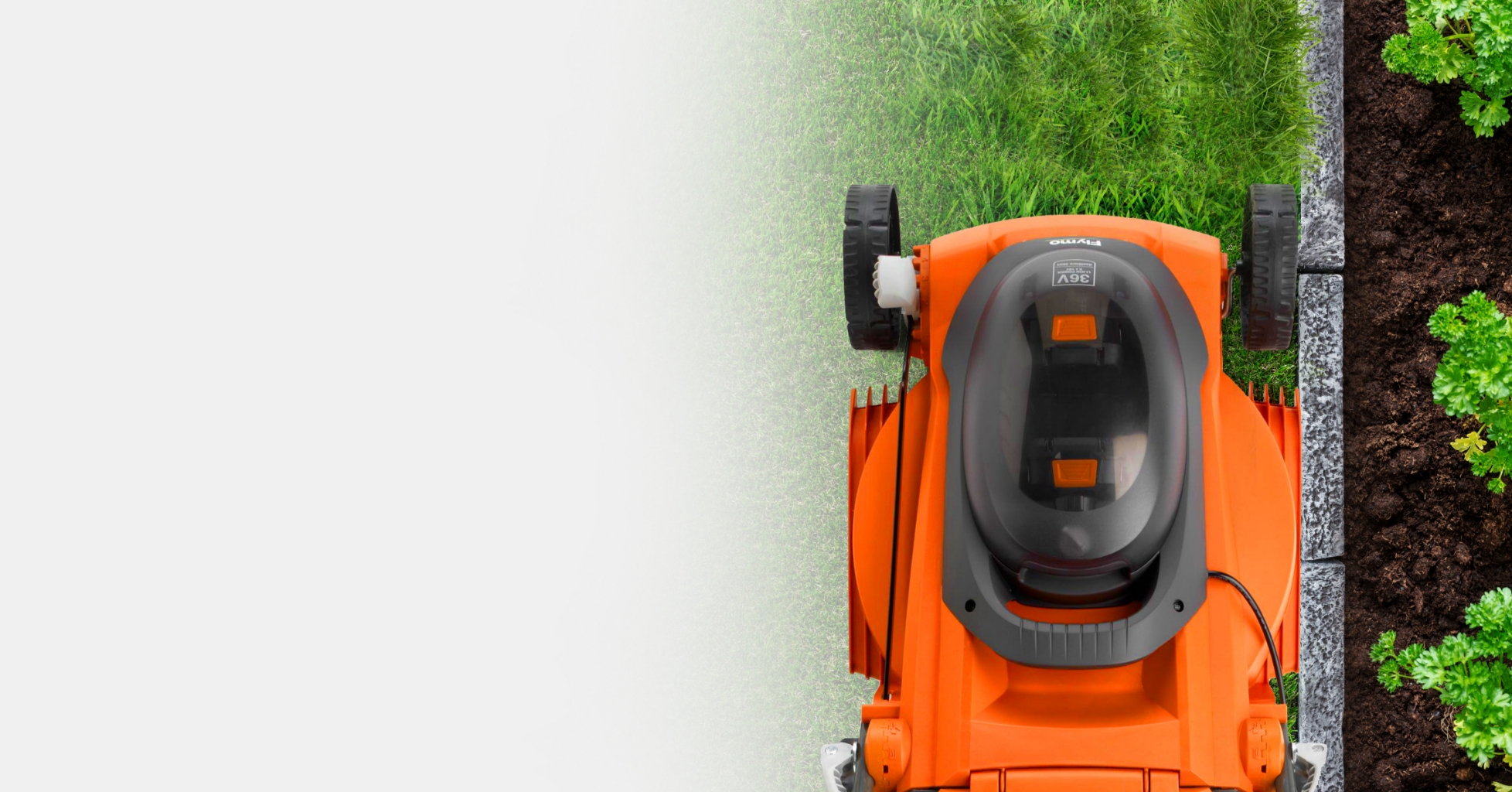 Edge Cutting
The EasiStore makes it easy to achieve a closer cut along lawn edges, borders and flower beds, which reduces the amount you will need to trim, saving you time.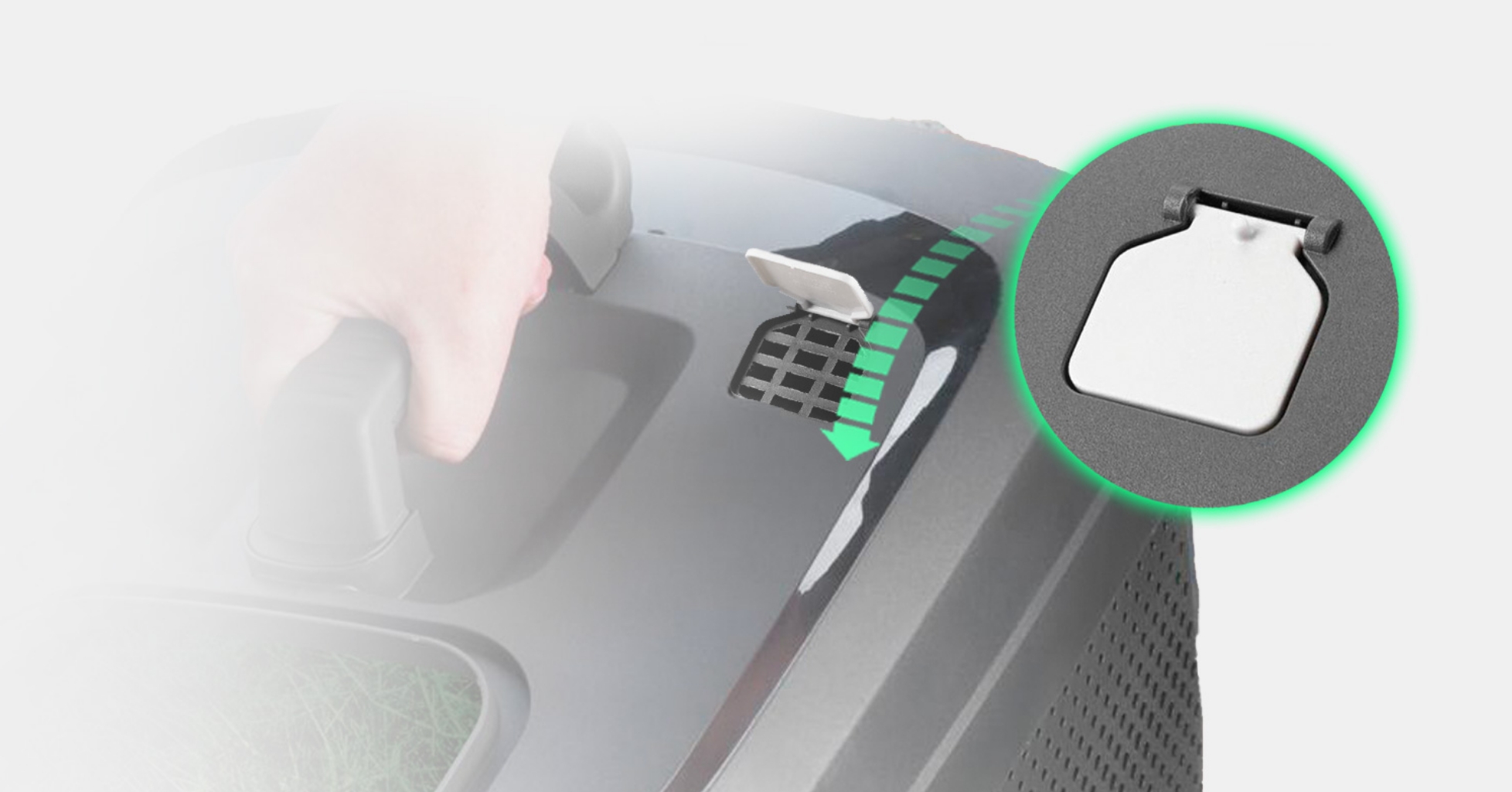 Grass Box Full Indicator
Know when it's time to empty with a helpful indicator that closes when your EasiStore 380R is full.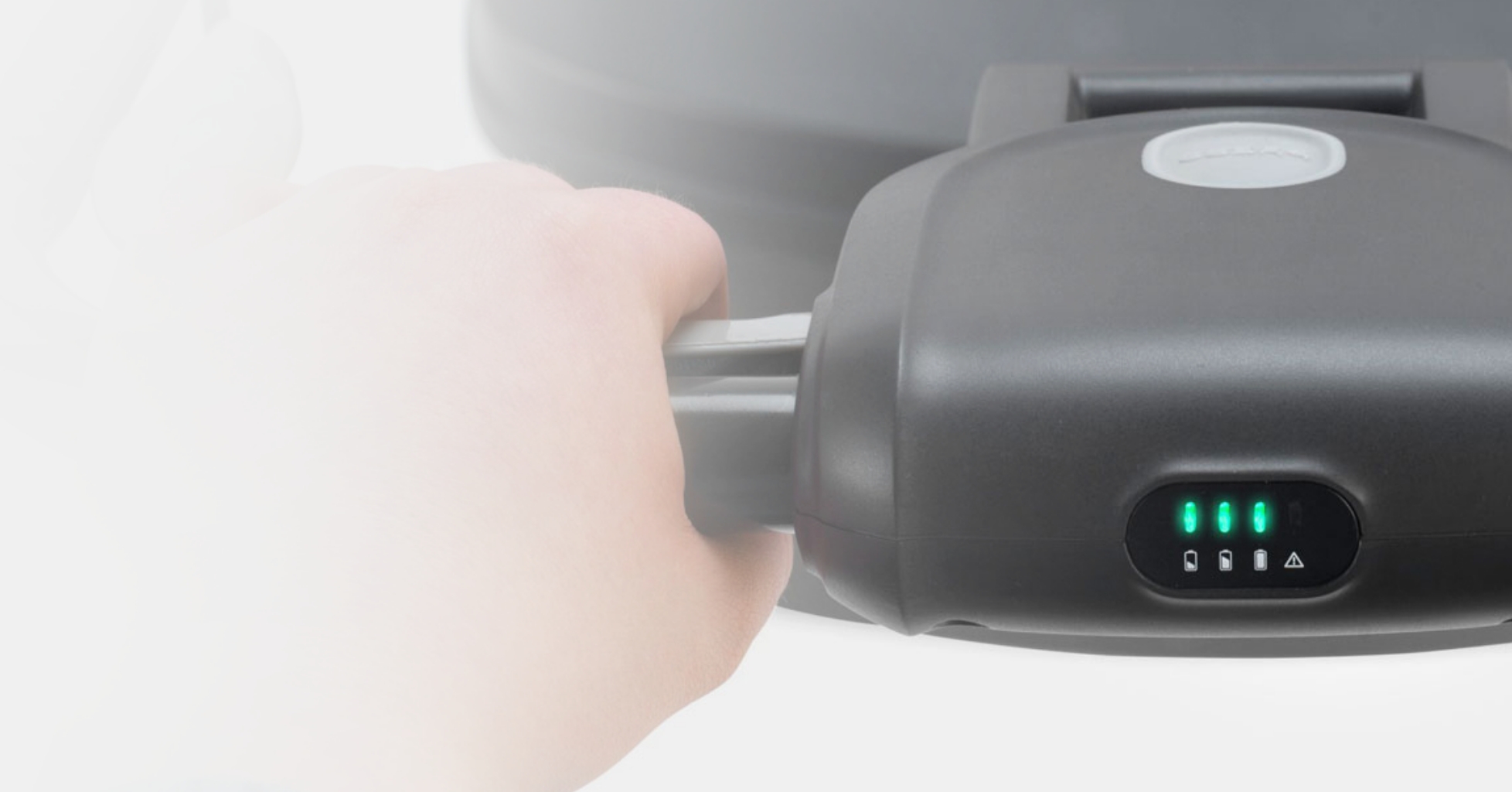 LED Display
Take cordless convenience to the next level with a battery display that clearly shows you how much charge is left.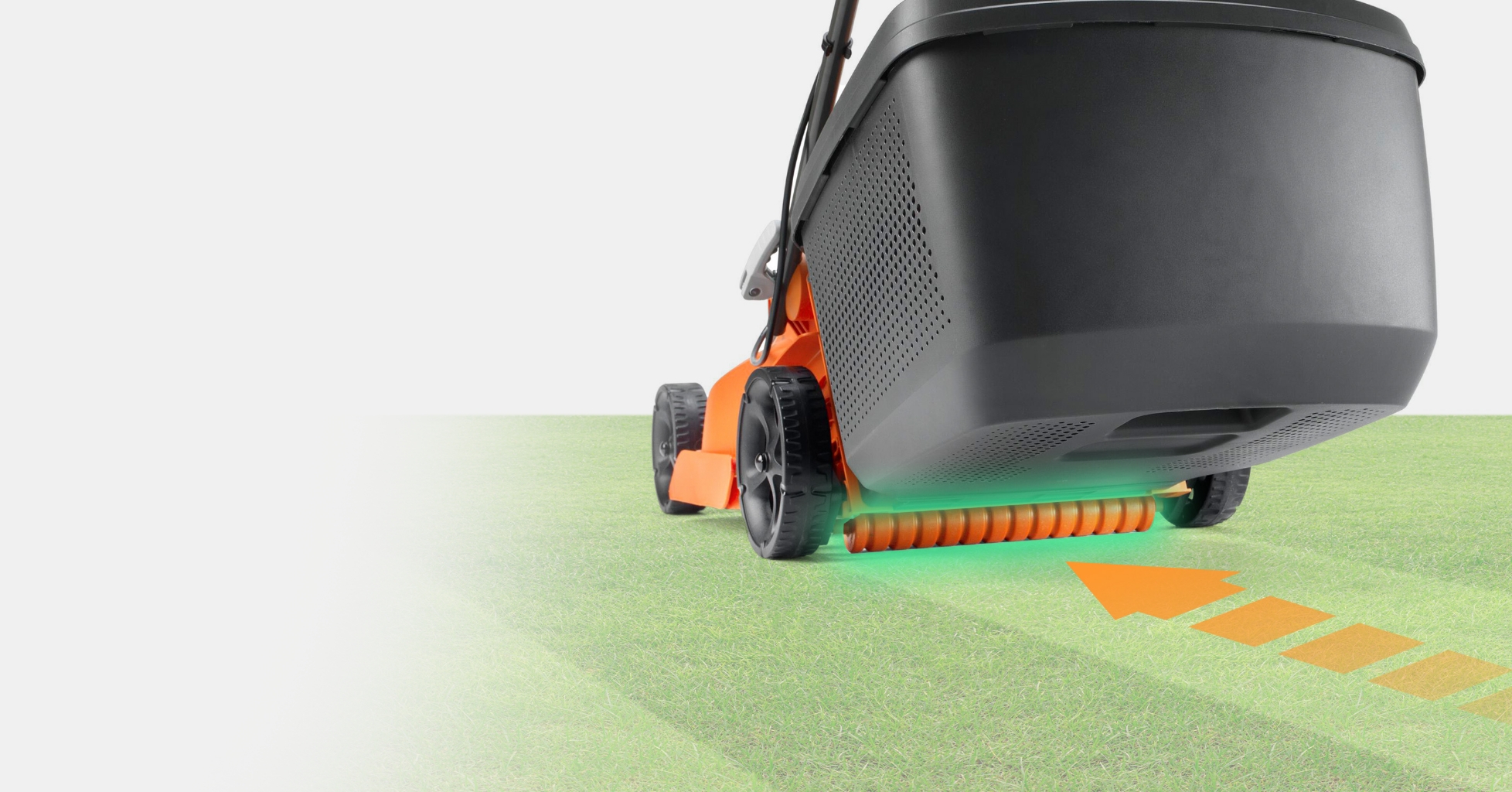 Rear Roller
The EasiStore makes it easier than ever to add a beautiful striped effect to your lawn. The rear roller helps achieve a classic lawn finish that's bound to impress friends, family, and neighbours.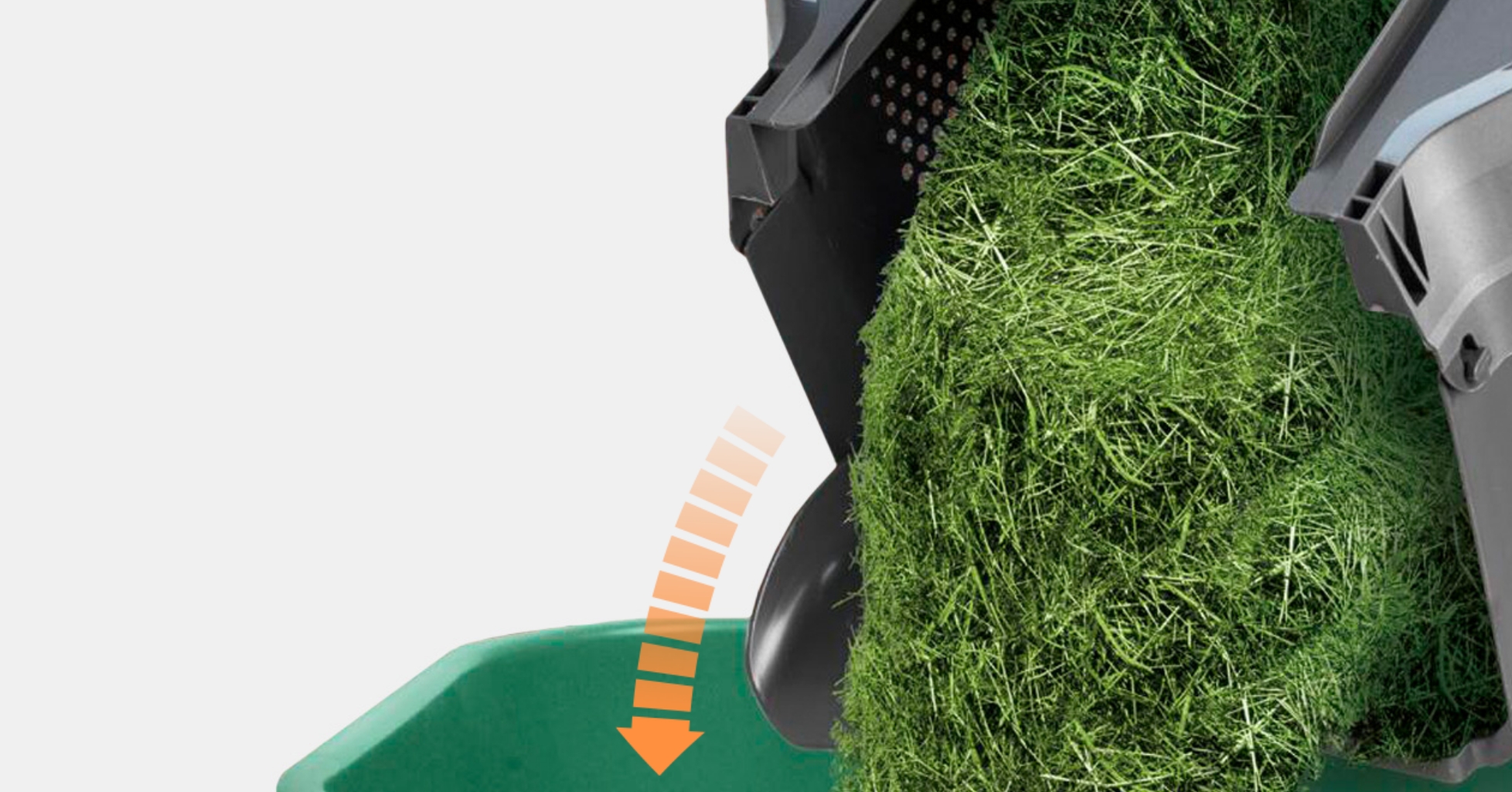 Grass Box Tongue
Prevent messy spills when removing the grass box thanks to the included box tongue.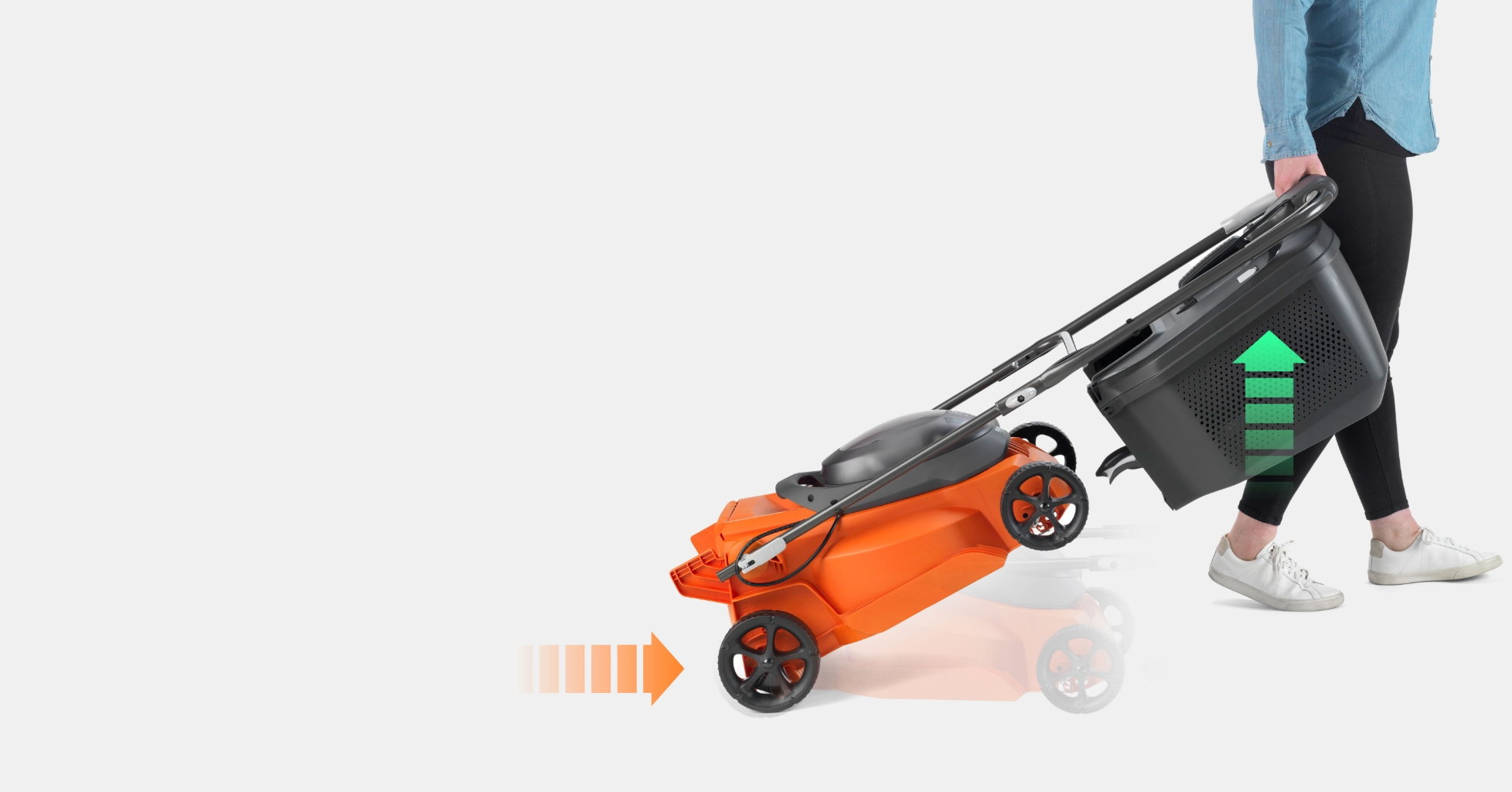 Transport Position
Moving to and from your lawn is comfortable and easy in an upright travel position.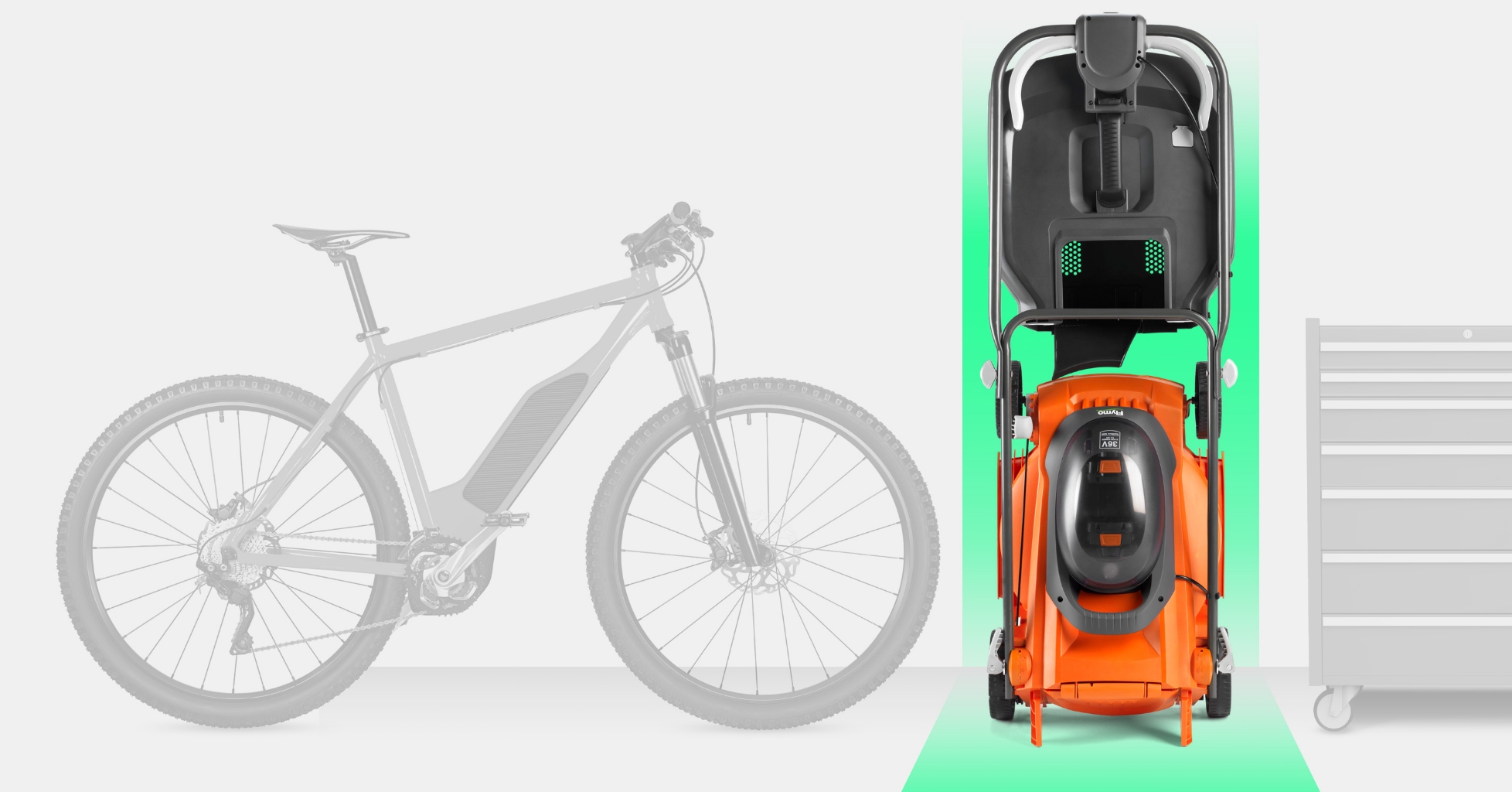 Upright Storage
A quick release lower handle allows you to store your EasiStore in an vertical position, taking up minimal space in your garage or garden shed.
The 36V EasiStore 380R is a 38cm battery-powered cordless lawn mower with extra features to make mowing easy with no restricting power cord for greater freedom & flexibility.
Designed for small gardens its powered by two 18V Power For All batteries to give 36V performance, which can be shared across a wide range of tools within the POWER FOR ALL ALLIANCE.
A close edge cutting system allows a neat cut right up to edges of the lawn or flowerbeds, reducing the need for trimming afterwards; and a rear roller provides a beautiful striped finish to your lawn meaning its always looking its best.
The clever vertical storage position means it takes up less floor space keeping your shed neat and tidy, or you can simply fold the handles down flat to store away neatly.
Packed with convenient features such as an LED display to see the remaining battery charge from the operating position, a large capacity 35L grass box which collects more grass between emptying with a tongue designed to prevent spilling and also lets you know when its full, a simple single lever for easy adjustments to the cutting height and an extra transport position of the handles to make it easy to move around the garden with ease.
For greater flexibility and control the twin lever handles allow you to operate the machine with either hand comfortably. A central handle makes it easier to pick up and carry from the lawn when you're done.
Spare Parts:
FLY099 - Metal blade 38cm

Battery Type
Power For All
Collection Capacity (l)
45L
Cutting Heights (cm)
20-60mm (5-steps)
Grass Box Capacity (l)
45L
Handle Control Switch Lever
Dual
Height Adjustment
Central
Product Weight (kg) Lawn mower
12.52